Pennard Golf Studio - Coming Soon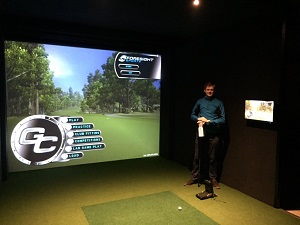 The Swing Studio at Pennard has been built from scratch and is now ready for you to improve your game.
It comes complete with state of the art GC2 golf simulator along with a seating area and hot and cold drinks.
The GC2 simulator can be used for many different fuctions including the below options:
Tuition
40 Minute Lesson - £25
1 Hour Lesson - £35
Junior 1/2 Hour Lesson - £15
Custom Club Fitting - £40 (Receive a £20 Voucher for the Pro shop with the purchase of clubs)
Practise sessions
Practice session for 15 minutes - £5
Practice session for 30 minutes - £10
Practice session for 1 hour - £15
Simulator
Simulator hire for 1 Hour- £25
Simulator hire 2 Hours - £35
Simulator hire for 3 hours - £45
Simulator hire for 4 Hours - £60
Play the 2016 Ryder Cup Course - 9 Holes at Hazeltine National Golf Club
Ball fitting session
Find your perfect ball - £15
Yardage assessment
Know your yardages with each of your clubs - £30

Nearest the pin competitions - Great Warm Up!

GC2 Launch Monitor
As part of my teaching and club fitting service I have invested in a Foresight Sports GC2 launch monitor. This is an amazing bit of kit that has a stereoscopic camera system that precisely captures and analyses a golf ball's flight characteristics just after impact. It measures the following:
Ball Speed
Launch Angle
Side Spin
Back Spin
Total Spin
Direction
Carry Distance
The GC2 delivers very accurate values of club and ball performance.
Click here to book a lesson, or here if you'd like ot book a custom fitting